FTMO Review & Breakdown is it the BEST Funded Trader Program in 2022.?
This is a very exciting topic for all of the readers who are interested in trading. Do you know anything about the FTMO? We strongly advise you to read this FTMO Review article if you believe you still haven't found the ideal company for your trading customers in order to ensure a stable change in your life.

Important!
By investing as a Traders, our legal department will advise you in the event of a dispute with your broker. Moreover, the DAILY BLUE PIPS will give you rebates that will earn you additional income.
What is FTMO?
FTMO is a project that is looking for experienced traders. They have developed a two-step evaluation course to ensure that a trader has some all of the qualities that the firm seeks. The FTMO Challenge and Verification are indeed the two steps. The System is specifically designed to identify trading talent. As we all know, the path of a trader is challenging. As a result, the firm has a strong team as well as educational applications, account analysis, and performance coaches to assist traders. After successfully completing the Challenge, the traders are placed in the FTMO Proprietary Trading firm. The traders can manage up to 200,000 USD remotely and grow the account in accordance with our Scaling strategy. The FTMO Trader is eligible to keep up to 90% of your profits. The good news is that the firm covers all losses if any.
FTMO User Reviews
The technical aspect of FTMO
When a person is selected as an FTMO Trader, he is awarded a demo account with virtual funds. An FTMO Account is a fully replicated account that includes accurate market quotes from liquidity providers. Because of the proprietary risk management algorithm, FTMO can copy trades at its discretion using combined orders. Traders are eligible for up to 90% of profits generated on the FTMO Account.
This System is much more accessible, providing FTMO more freedom and control over managing risk. Even so, dear traders, it would be useful if you were wary of banned trading activities. Some trading strategies generate risk-free, consistent profits while others take advantage of market conditions or services. For more information on the Forbidden Trading Practices, please see the company's Terms & Conditions. It is always preferable to understand the ground rules before entering the business.
Who can partner with FTMO?
FTMO welcomes and invites traders from all over the world. However, because of their political backgrounds, traders from Iran, Syria, and North Korea. To join the firm, all traders must be at least 18 years old. All the firm requires is an expert with the know-how to trade profitably and with proper risk management. There are no other needs. That sounds interesting.
What is the FTMO challenge?
This crucial feature is the well-known Challenge, which stands between you and a $200 000 funded trading account. Most of you are for that about how this works.
The Challenge only has two simple steps to assess your trading ability. The first stage of the process is the Challenge, and the second stage is verification.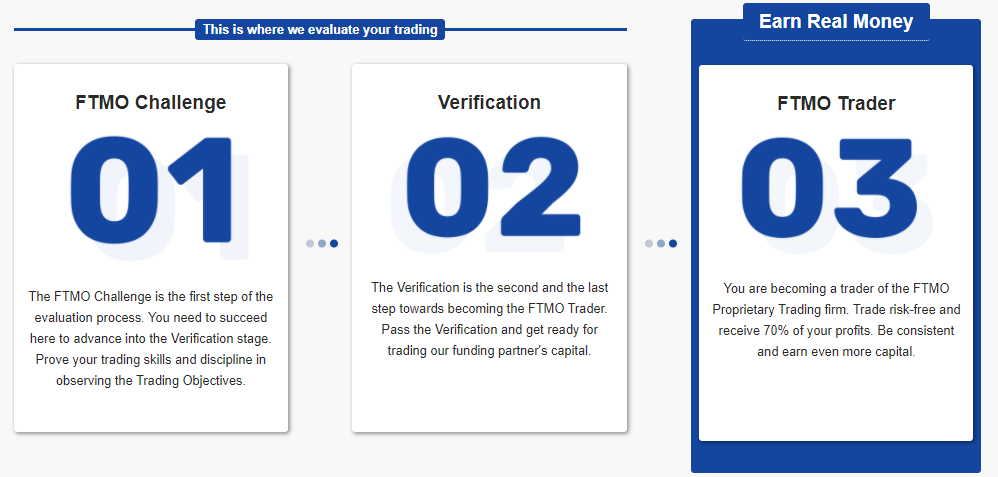 You must complete the Challenge, and verification will result in a demo account. After purchasing the Challenge, the applicant receives an email with all of the details. Your account statistics are displayed in your client portal, and you can tack on all aspects of the Challenge until you pass or fail.
If you're wondering why they've implemented this Challenge and why you have to pay for it, here's why! If people are given an unlimited number of trials, they can easily win the $200 000 trading account by chance, even if they have previously failed many times. This Challenge ensures that the trading money goes to the most profitable trader rather than someone who will waste the company's money.
The First Step (FTMO Challenge)
The FTMO challenge is an important element that helps funders in deciding whether the trader is responsible and careful in private equity. Trading Objectives are rules developed by FTMO to stop this from happening.
This challenge will last 30 calendar days. If the trader meets his or her trading goals within 30 days, he or she can proceed to the verification step without waiting. This is a significant benefit of the FTMO challenge.
The Second Step (FTMO Verification)
The second and final stage of our evaluation process is verification. The Verification stage's goal is to put your trading consistency to the test. FTMO must be satisfied that you can trade your system or strategy profitably over time while staying true to the rules. When compared to the FTMO Challenge stage, the Verification stage has much easier Trading Objectives. The Profit Target is reduced by half in the Verification, and you have a full 60 calendar days to score and shine like a star.
It's important to note that, as with Step 1, you don't have to use the entire 60-day period. You will receive your funded account as soon as you complete all Trading Objectives. When you win the challenge (pass step 2) and receive the funded account, FTMO refunds the entire amount.
How to choose your Challenge.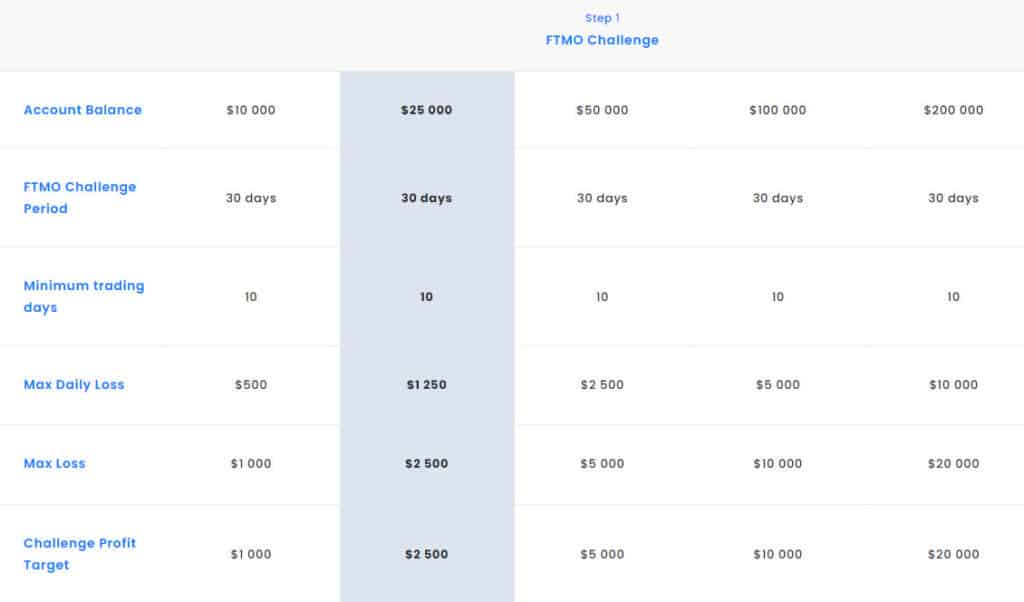 Here are a few simple tips to help you to understand how to choose the Challenge.
Remember that the funding can range from $10,000 to $200,000. The $10,000 challenge is much less pricey to try. It is perfect for someone that is new to trading.
Accounts can be set to either Normal or Aggressive mode. Aggressive account challenges essentially allow the trader to have a larger drawdown on the account without losing it. The maximum drawdown is increased from 10% to 20% using this method.
FTMO worked with a variety of forex brokers, including Blueberry Markets, until August 2020. However, the company later dropped all third-party retail brokers and began offering their own trading solution, directly connecting with the traders. In terms of brokers, it was significantly faster, cheaper, and better than the majority of the best options on the market.
The Challenge for Swing Traders.
Swing trading is a strategy for trying to capture short- to medium-term gains in a stock or other financial instrument over a few days to several weeks. Swing traders rely heavily on technical analysis is to identify trading opportunities.
FTMO now has a Swing challenge in which traders can hold overnight and over the weekend without requesting permission, which was previously the meta. The leverage is reduced to a 1:30 ratio, which is adequate for swing traders. Previously, all swing traders were required to use 5%. It's a brilliant move by FTMO. This service is used by the majority of traders.
Since the beginning of the online prop firm industry, FTMO has been known for its 70 percent profit split. Other industry competitors have used this as a model to base their offerings on. FTMO is now offering traders up to 90% profit share, with only 10% of profits going ahead of the trading game. The firm also provides a capital scaling programme, which allows you to increase the balance of the funded account by 25% if the trader meets the Criteria well.
Do you think this is the most significant profit split in the industry, and do you think it's fascinating to see FTMO constantly going above and beyond and smashing the boundaries they've set in this space? So, it is worth joining and trying out the scope of potential you have as a trader.
Is FTMO a realistic approach?
This is something that beginners to the trading industry take into account. You must be beginning to wonder if this is a sense . for example or if it is even possible. Could you ignore it because the profit sharing and benefits offered sound too appealing? So, let us delve deeper into the subject.
Yes, to the question raised above. It is both legitimate and realistic. Most people naturally have reservations about trading companies like this because the majority of them are legitimate and commit fraud. If your profit consistency is even and moving, there is no doubt that you will fail as a trader. FTMO can help a trader become a better forex trader. as they force the traders to be moved by the rules of the account like drawdown etc., which causes them only to take high-quality trades.
The only real disadvantage of the strict rules is that traders could be allowed to hold over the market weekend unless they use the new swing trader challenge. You can easily grab trades over the weekend market tight during the legal challenge. Once the trader has been funded, he must write to FTMO by Wednesday night to request permission to hold over the weekend so that the firm can assess the risk and implement any necessary hedges.
FTMO Fund transfer and withdrawals.
This is the most important part of our discussion. Almost everyone wants to know how you plan to receive the funds. Here are some facts that will definitely assist you.
The funds are distributed to the traders through a monthly profit split. They must invoice FTMO and credit the funds to the appropriate account via regular bank wire transfer or Skrill. The good news is that FTMO charges no withdrawal commissions. As proof of payment, the traders are given a withdrawal certificate.
The traders can bill the prop trading firm as a corporation or as individual people. However, keep in mind that you must manage your earnings in accordance with your country's tax regulations. It is critical to remember. For example, if you work from the United Kingdom, you must pay tax on earnings over £12,500. To ensure compliance with the relevant regulations, it is always best to consult a local tax advisor.
Pros and Cons of FTMO
Getting to know the trading firm's advantages and disadvantages is always helpful when trying to assess it. The following are some of the most frequently discussed parts of the firm. We hope this is beneficial to all new traders in the field.
Pros
The following are some of the benefits of opening an FTMO account:
The trial challenge is totally free. You can try it first and then decide whether or not to continue.
The trader is entitled to keep 90% of the profits.
Customer service is always available, with detailed descriptions and guidelines.
The trader is constantly investing in FTMO funds, not personal equities.
Help is always available in the form of tutorials, webinars, Q&As, and discounts on partners' educational websites.
With the scaling plan, a profitable trader can increase their capital by 25% every four months.
Cons
The following are some disadvantages of the prop trading firm's offering:
The traders can only profit once they reach the professional account. FTMO, unlike its competitors, strictly monitors all procedures.
There is a lower initial capital volume involved.
There will be no holding over the weekend unless the trader obtains prior permission.
Safety and believability
Because FTMO does not qualify as a broker, it is unregulated. The firm includes a detailed two-step evaluation system with a low pass rate. This clearly shows how exacting the procedures are. It helps to ensure that only capable traders can advance to the professional level. The FTMO also allows new traders to use a free demo account to hone their skills before paying the FTMO joining fee and participating in the Challenge.
What Are The Rules That Doesn't Excite At FTMO?
In this section of the article, we will be looking at some aspects that FTMO has no specific rules for. Unlike other platforms, FTMO doesn't have rules about the following:
Trading News
Traders are free to trade during news releases while undergoing the two-step evaluation course. However, once traders have completed the evaluation course, they must tread cautiously when trading the news unless they have a Swing account. In that case, they are free to trade the news as they see fit. As a result, the restrictions apply only when a trader has access to an FTMO-funded trading account.
Trading Overnight
As long as the trader is still trying to pass the FTMO Challenge or Verification, they may keep open positions overnight and even over the weekend. However, once they become a full-fledged FTMO trader, the story changes completely. The firm requires its traders to close their positions shortly before the markets close for the weekend. Traders are expected to follow and respect market timings. The only exception is for traders who have an account type such as the FTMO Swing account, which allows them to hold open trading positions on weekends.
Instruments Allowed in FTMO
Traders have complete freedom because all assets available on the trading platform, including Forex, stocks, indices, commodities, and cryptocurrency, are available for trading. The firm does not impose any restrictions on the instruments or position sizes that traders can trade, while also allowing traders to use their preferred trading styles and strategies as long as they are legitimate and in line with real-time market conditions.
Conclusion of FTMO Review
Suppose you're looking for a valid way to make money; perfect! You've found the best firm. It is completely legitimate, trustworthy, and closely monitored, so its credibility is high. This is the ideal location for a successful and experienced trader. But don't be concerned. If you are new to the industry, you can still make the most of it by participating in the demo challenge and honing your skills. I hope the information provided is useful. Do not be concerned about wasting your time if you have not yet registered and are interested in becoming a trader. It is your best opportunity!
FAQS
What is FTMO?

FTMO is a project that seeks experienced traders. We created a two-step evaluation analysis to identify if a trader possesses all of the qualities we seek. The FTMO Challenge and Verification are the two steps. The course is specifically designed to identify trading talent.

Is FTMO challenge free?

After you sign up, we will provide you with a free trial in which you can trade as if you were in the FTMO Challenge.

Does FTMO pay monthly?

FTMO will transfer up to 90% of its profits on a monthly basis. If you consistently profit, we will allocate more funds to your FTMO Account on a regular basis. Get paid while also growing according to our Scaling Plan.

What happens if you fail FTMO?

If you breach any of the Trading Objectives, your account will be automatically invalidated and you will lose your eligibility to continue in the Evaluation Course. If your FTMO Account is breached, the corresponding FTMO Account Agreement will be terminated.

How long does it take to become a FTMO trader?


To pass the FTMO Challenge, you must trade for at least 10 trading days (they do not have to be consecutive). To pass the Verification, you must also have traded for at least 10 trading days (which do not have to be consecutive).